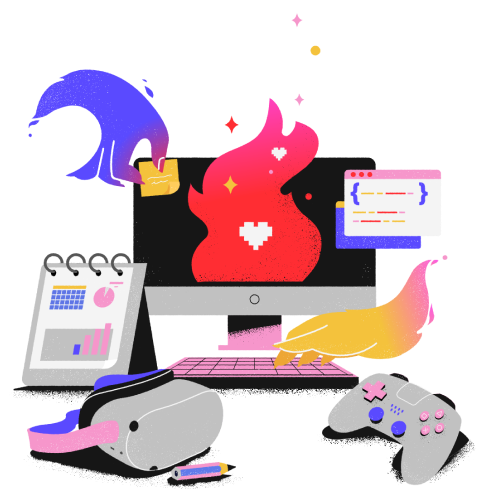 Red Wolves edge
We are passionate about developing fun, visually stunning, and technically sophisticated video games. We take pride in pushing the boundaries of what's possible with every new game we release.
We develop mobile, PC and console video games based on our own original creations, and we also join forces with our partners and clients to provide a full game development or support service based on globally recognized IPs.
Game Production
We provide a full end-to-end production service, offering continuous support and managing campaigns, monetization and product updates.
VFX
Comprehensive design and production of special effects for video games.
Game Design
We offer a complete game design service both at a consulting level and for solving existing problems. Our passionate team of game designers is always on the lookout for new trends, genres, and innovative creations.
2D & 3D Art
We create high quality graphics from concept to final format. Our experienced and versatile team of 2D and 3D artists turns the best ideas into reality for our clients.
Animation
We give life to a huge number of digital productions using the latest and most advanced animation techniques in both 2D and 3D.
Game Development
We develop video games on mobile, PC, console and AR/VR platforms in a comprehensive way. We work with various game engines and programming languages to produce, maintain and run live-operations at scale.